The current global crisis has created a break in our vital supply chain and many people are looking for reusable alternatives to disposable products. Nicki's Diapers is a family-owned business that provides a reusable cloth alternative to expensive disposable diapers and so much more.
Started in 2003 because Nicki could not find the cloth diapers that she wanted for her son, Nicki's Diapers has grown into a family of brands that specializes in hundreds of products for baby and mom. As Nicki's Diapers grew, Nicki also began Imagine Baby Products, Planet Wise Inc, and Best Bottom Diapers. If you are looking for affordable, reusable cloth diapers that are environmentally friendly, then look no further than Nicki's Diapers.
In Business Since 2003
Nicki's Diapers has been in business for 17 years and in that time they have become a leading maker of reusable cloth diapers. Parents love Nicki's Diapers because they are brand-name quality at an affordable price. Usually reusable options such as Nicki's Diapers cost more and aren't as convenient as the disposable kind. Not Nicki's Diapers; products like their Ultimate All-In-One size reusable diaper provide your baby comfort and stay-dry technology for a reasonable price that comes in adorable colors and prints.
All of Nicki's Diapers are guaranteed for a 15-day "try, wash- love, or return" period so you can try Nicki's Diapers risk-free. They provide this guarantee because they are sure that you are going to love their reusable cloth diapers.
Save Money and the Environment
Parents can save thousands of dollars per-baby when they replace their disposable diapers with Nicki's Diapers. Because they are reusable, they are environmentally friendly and are made without harmful chemicals so you don't need to worry about them affecting the health of your baby. Parents also love Nicki's Diapers because they are cool, trendy, and extremely adorable because of all the color and print options. And they make great gifts for new parents who may be overwhelmed by everything they need to buy for their baby.
When people think of reusable cloth diapers like Nicki's Diapers, they wonder, "well what about the mess?" That is an excellent question that Nicki's Diapers has provided an easy answer to. Once your Nicki's Diaper is soiled, all parents have to do is discard the solid waste down the toilet and then place the soiled diaper into a hamper. When it is time for a wash, the diapers should go through two cycles. The first is a cold wash without detergent to flush all the remaining dirt down the drain. The second is a hot cycle with 3/4 the regular amount of detergent and an extra rinse cycle. Then dry them however you want and you are done! Think of all the time and money that simple effort can save you.
The Best Cloth Diaper
It all started when Nicki could not find a suitable cloth diaper so she decided to begin making her own. Now Nicki's Diapers specializes in 8 different types of reusable cloth diapers sure to satisfy any parent's needs.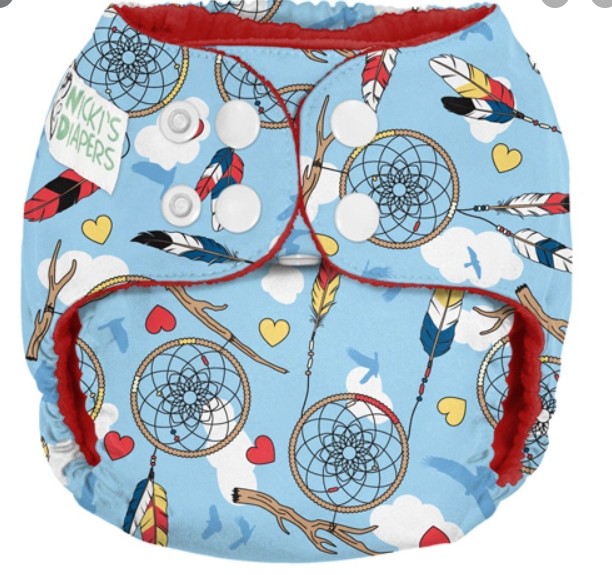 Nicki's Diapers All-In-One diaper system is one piece and includes snaps that make them easy to put on. Just like disposable diapers, these diapers have an inner absorbent layer and a waterproof outer layer, as well as adjustable closures at the waist to ensure stability and comfort.
Nicki's Diapers other reusable diaper options include pocket diapers, diaper covers, pre-fold diapers, flat diapers, fitted diapers, and other diaper accessories. All of these products achieve the exact same thing as the best disposable diapers with one important difference: the cost!
Great Baby Accessories
Nicki's Diapers is not just a reusable cloth diaper company. They have just about everything you will need for your baby from newborn items to gifts for mom. They also carry a variety of slings and Mei Tai baby carriers that parents love because they makes carrying their babies safe and easy.
Nicki's Diapers also has a number of products to help moms who are nursing such as nursing bras and nursing covers to give you and your baby privacy in public. They also carry a number of beneficial supplements and teas that help nursing mother produce milk.
Customer Rewards
Nicki's Diapers offers their customers incredible deals on shipping and they reward loyal customers free products through their rewards program.
Nicki's Diapers is offering free shipping on all orders over just $10. Plus, they will include a free gift for all orders over $49. The free gifts include a cloth mask with orders between $49-$99; a bamboo blanket with orders between $100-$199; and all orders of $200 or more will receive a free diaper.
Nicki's Diapers appreciates their loyal customers which is why they created their great customer rewards program. For every dollar spent, Nicki's Diapers' customers will receive one point. Once they earn enough points, they can redeem them for cash rewards that they can put towards their next order.
Nicki's Diapers Reviews
Customers overwhelmingly are pleased with Nicki's Diapers. Here's a few reviews from online.
I was searching for an all-in-one cloth diaper with natural fibers and really love Nicki's Diapers One-Size Bamboo All-in-One. The price is more affordable than many other brands of bamboo all-in-ones and they come in lots of colors. The only two negatives for me are the unencased leg elastics and the longer dry time due to the natural fibers. But if you really want to go with bamboo cloth diapers, Nicki's is the one to get!
I like the great absorbency of Nickis diapers. This is a great buy and super cute I just love their dinosaur one.
These diapers are extremely absorbent and very soft. My daughter is a heavy wetter and would often pee through her cloth diapers. Nickis kept her dry overnight. I love that this diaper isn't extremely biller either. And I love the pattern!
Family Values
People love Nicki's Diapers because they make great reusable diapers and other baby products and because their company has strong family and environmental values at its core. They employ many people including mothers who love working at Nicki's Diapers because they allow flexible schedules so the can work while being a mother. They also offer excellent customer service, fast shipping, and their 15-day guarantee.
Largest Selection Anywhere
Nicki's Diapers includes the largest selection of new or gently used cloth diapers anywhere. Think of all the money you will save with the purchase of just a few of Nicki's Diapers reusable diaper styles. And with their other products and baby accessories, Nicki's Diapers truly is a on-stop-shop for parents everywhere.
Nicki's Diapers is one of the fastest growing reusable diaper stores in the country because so many parents swear by their convenient and affordable products. The only thing at risk is losing those expensive disposable diapers, so you should give Nicki's Diapers a try today!